EnglishSpanish
Hillstone iNGFW White Paper: Advanced Security Correlation Analytics
Information security incidents may happen due to a lack of data availability, integrity or confidentiality. Many security vendors have conducted considerable research to determine how best to protect data. Many current security products and technologies—such as firewalls, intrusion detection/prevention systems, strong authentication access control mechanisms, virtual private networks, public key infrastructure—arose from these efforts. Businesses around the world deploy security products and technologies to identify, and defend themselves against, information security breaches.
Prevent Data Breaches with Analytics and Network Intelligence
If your organization is connected to the Internet, it's vulnerable to attack. The days of staving off Internet security hazards with traditional firewall, intrusion prevention, and antivirus systems have passed. This paper discusses the advantages of Hillstone's Intelligent Next-Generation firewall technology.
Hillstone iNGFW White Paper: Intelligence Driven Defense
Cyber-security has gone from a niche IT issue to a boardroom priority. Senior executives and boards of directors are no longer complacent about the risks posed by data breaches and cyber attacks. They know that a breach of confidential information can damage brand or reputation, trigger class-action lawsuits and cause costly downtime. They also know that data breaches are thrusting organizations into the media spotlight, as new regulations require public disclosure of security breaches – especially if cardholder data or personally identifiable information is exposed.
An Introduction to the Hillstone Networks Server Breach Detection Solution
Sophisticated, targeted cyberattacks, such as ransomware, have become the biggest threats to modern society, as well business. Attackers often exploit security vulnerabilities in traditional static, rule-based cyber defense technologies that are usually deployed at the network perimeter. Malware and viruses designed by these hackers breach into the intranet of the corporate networks and hibernate for certain periods of time, looking for and identifying high valued targets inside the corporate network (such as database servers), then try to gain access to these servers and ultimately steal valuable data and other information or demand ransom by disrupting normal business operations.
CloudEdge For Network Function Virtualization (NFV) Solutions
With the advancing technologies, business applications and operations naturally have become more dynamic in order to adapt. New applications or business operations are created almost every day. In addition to adding new applications, removing or modifying applications and operations happen at a similar speed. However, traditional hardware-based data centers and networks could not meet the requirements of these highly dynamic changes, as hardware infrastructure cannot be adjusted at the same speed as applications.
Hillstone CloudHive: Micro-segmentación de Seguridad para Centros de Datos Virtualizados
Como los centros de datos han evolucionado desde lo físico a lo virtual, de empresarial a la nube, los problemas de seguridad que enfrentan han evolucionado también. Algunas de las tendencias que han cambiado la naturaleza de la seguridad del centro de datos incluyen: Multi-Alquiler, Multi-nube, Norte-Sur al Este-Oeste, SDN y NFV, Movilidad y Elasticidad.
Download
Hillstone Twin-Mode Solución de Firewall para Centros de Datos Redundantes
A medida que más empresas confían en disponibilidad 24/7/365 para sus aplicaciones, el diseño de los centros de datos redundantes con conmutación por error se han vuelto cada vez más populares. Hasta hace poco, muchos de los firewall más sofisticados eran incapaces de garantizar la seguridad completa en un entorno de centro de datos redundantes.
Download
Detección y Prevensión de Ransomware con Firewall Inteligente de Hillstone Next-Generation
El Viernes Negro de 2016, un poderoso ataque de ransomware cerró sistema de tren ligero Muni de San Francisco, amenazando con destruir más de 30 GB críticos de la base de datos, correo electrónico, capacitación del personal, nómina, venta de entradas y otros datos del sistema, a menos que Muni pagara a la autores 100 Bitcoin (valor aproximado de US $ 70,000). Muni se negó, desconectando su sistema de boletas durante dos días, y forzando a la agencia de absorber miles de pasajes libres.
Download
Hillstone Twin-Mode Firewall Solution for Redundant Data Centers
As more enterprises rely on 24/7/365 application availability, redundant data center design with application failover has become increasingly widespread. Until recently, many of the e ven most sophisticated firewalls were incapable of ensuring full security in a redundant data center environment. Hillstone's Next Generation Firewalls now address this issue head on with their Firewall Twin-Mode feature, which links redundant firewall pairs across data centers to maintain full security for all redundant data center traffic flows. Thanks to Hillstone Firewall Twin-Mode , enterprises can achieve 24/7/365 business continuity and disaster recovery without any gaps in data center security.
Ransomware–Detection and Prevention via Hillstone's Intelligent Next-Generation Firewall
On Black Friday 2016, a powerful ransomware attack slammed San Francisco's Muni light rail system, threatening to destroy more than 30GB of critical database, email, staff training, payroll, ticketing and other system data, unless Muni paid perpetrators 100 Bitcoin (worth roughly $70,000). Muni refused, throwing its ticketing system offline for two days, and forcing the agency to absorb thousands of free passenger rides.
Cisco's 2016 Midyear Cybersecurity Report, declares ransomware "the most profitable malware type in history," echoing other studies that have tracked ransomware's rapid ascendance to one of the most prevalent and virulent enterprise security threats across all business sectors. According to a June 2016 Osterman Research survey, almost one out of every three surveyed organizations suffered a ransomware attack in the previous 12 months.
Hillstone CloudHive: Micro-Segmentation Security for Virtualized Data Centers
As datacenters have evolved from physical to virtual, enterprise to cloud, the security challenges they face have evolved as well. Some of the trends that have changed the nature of datacenter security include: Multi-tenancy, Multi-cloud, North-South to East-West, SDN and NFV, as well as Mobility and elasticity.
Firewall Inteligente de Próxima Generación de Hillstone Networks Detección de Amenazas Post-Brechas Utilizando la Cyber Cadena de la Muerte
The cyber threat landscape has evolved from traditional "hit and smash" type of attacks to more sophisticated, targeted and well-coordinated techniques aiming to El ámbito de la amenaza cibernética ha evolucionado del tipo tradicional de "golpear y aplastar" a los ataques más sofisticados, específicos y técnicos, bien coordinados con el objetivo de robar valiosos datos corporativos y los secretos de estado o secretos personales. Estos ataques cibernéticos causan enormes daños financieros y políticos a las empresas, instituciones y agencias gubernamentales en todo el mundo.
Download
Whitepaper: Hillstone S-Series Network Intrusion Prevention System (NIPS) PCI DSS 3.2 Compliance
This paper discusses PCI DSS 3.2 security requirements compliance of cardholder information when it is transmitted electronically across private and public network connections and how Hillstone's S-Series Network Intrusion Prevention System (NIPS) appliance can help your organization comply with these requirements.
Hillstone iNGFW White Paper: Threat Correlations on Hillstone intelligent Next-Generation Firewall Connecting the Dots
Today's cyber attackers have become ever more sophisticated, using targeted, persistent, stealthy and multi-phased attacks in order to avoid detection at network perimeters through traditional security measures.
iNGFW-Test Report by Gawain
The landscape for enterprise IT has changed in the new era; internet access has become more and more sophisticated. For many enterprises, a fast and robust network has become a basic working condition. The manner in which employees use the network and their satisfaction levels have also changed dramatically.
Download
Hillstone Networks intelligent Next-Generation Firewall: Detecting Post-Breach Threats Using the Cyber Kill Chain
The cyber threat landscape has evolved from traditional "hit and smash" type of attacks to more sophisticated, targeted and well-coordinated techniques aiming to steal valuable corporate data and state or personal secrets. These cyberattacks cause enormous financial and political damages to corporations, institutions and government agencies worldwide.
Hillstone iNGFW White Paper: A Hybrid Approach to Detect Malicious Web Crawlers
A web crawler (also called web spider, web robot) is typically a script or computer program that browses the targeted website in an orderly and automated manner. It is an important method for collecting information on the Internet and is a critical component of search engine technology. Most popular search engines, such as GoogleBot and BaiduSpider, use underlying web crawlers to get the latest data on the internet.
Gartner & Hillstone: Intelligent Next-Generation Firewalls
Addressing Today's Advanced Threats
As cybercriminals get more advanced and the cloud becomes an extension of the network, protecting IT assets becomes more difficult—and more important. Intelligent Next-Generation Firewalls (iNGFW) can address advanced threats and shift the protection paradigm.
Hillstone T-Series Intelligent Next-Generation Firewall Whitepaper: Configuration and Operation Analysis using Packet Route Inspection
This paper describes the packet inspection analysis and troubleshooting capabilities of the Hillstone T-Series Intelligent Next Generation Firewall (iNGFW). The firewall automatically traces and collects information on packet processing and inspection.
Hillstone T-Series Intelligent Next-Generation Firewall Whitepaper: Enhanced Intelligent QoS
This paper describes the unique Enhanced Intelligent QoS (iQoS) capabilities of the Hillstone T-Series Intelligent Next Generation Firewall (iNGFW). Compared to traditional QoS, iQoS is equipped with rich features including two-layer and eight-level tunnel embedding, tunnel monitoring, priority based differentiated services and allocation of remaining bandwidth.
Hillstone T-Series Intelligent Next-Generation Firewall Whitepaper: Abnormal Behavior Analysis
This paper describes the Abnormal Behavior Analysis capability of the Hillstone Intelligent Next-Generation Firewall (iNGFW) product. This technology offers a cutting-edge method of detecting unknown threats by analyzing user and server traffic, tracking a myriad of traffic parameters, and correlating and comparing the gathered data to limit risk and reveal potential new threats. Over a period of system learning, each tracked parameter generates a baseline, as well as high and low thresholds. Subsequent behavior patterns violating these thresholds are deemed abnormal and the system generates a threat warning. The correlation of time, parameters exhibiting abnormal behavior, and system warnings enable you to recognize and prevent potential new threats in advance of them impacting your network operation or applications.
Featured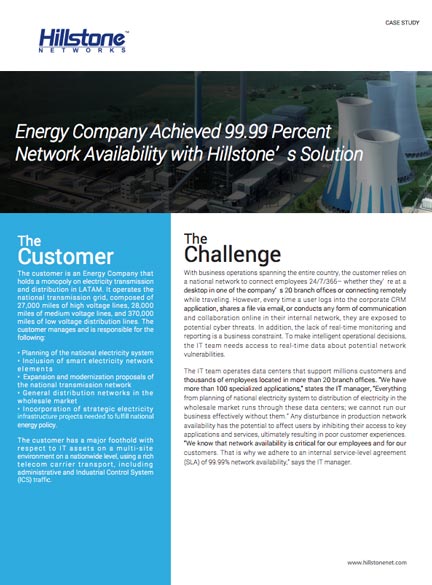 Energy Company Achieved 99.99 Percent Network Availability with Hillstone's Solution
The customer is an Energy Company that holds a monopoly on electricity transmission and distribution in LATAM. It operates the national transmission grid, composed of 27,000 miles of high voltage lines, 28,000 miles of medium voltage lines, and 370,000 miles of low voltage distribution lines.
Download
The Hillstone and Flowmon Joint Solution
Hillstone and Flowmon join forces to allow customers to build complete cybersecurity platform. The joint network security solution, consisting of the Hillstone Networks Intelligent Next-Generation Firewall (iNGFW) and Flowmon Anomaly Detection System (ADS), can effectively intercept cyber threats from the Internet and internal networks, defend against modern network attacks, and comprehensively monitor and protect the overall network security posture.
The Hillstone and Array Joint Solution
The joint solution from Hillstone Networks and Array Networks brings together the robust security benefits of the Hillstone CloudEdge Virtual Next Generation Firewall with the agility and performance of the Array Network Functions Platform to address today's challenges with advanced threat protection that is both scalable and cost-effective.
Video: Hillstone Cloud Sandbox Demo
Video: Hillstone Server Breach Detection System Demo
Video: Hillstone CloudEdge for NFV Solutions Demo
Video: Hillstone Intelligent Next-Generation Firewall
Video: 2017 Portfolio of Hillstone Perimeter Security Solutions
Video: 2017 Hillstone Server Breach Detection System
Video: 2017 Hillstone CloudHive Advanced Micro-segmentation Solution
Hillstone Networks News & Press