Provide Cyber-Resilient Security that Works
An Evolving Threat Landscape
Where multi-stage, multi-layer attacks are a daily occurrence, state actors are looking to compromise critical infrastructure, scammers and phishers are looking for their next score, and being held hostage by ransomware can mean weeks of business downtime and interruption, or even business shutdown.
Rapid Infrastructure Expansion
The move into cloud data centers, and adoption of work-from-home, work-from-anywhere working patterns have dramatically expanded the attack surface. Operational technology (OT) platforms gaining cloud connectivity, proliferation of internet-of-things (IoT) devices, bring-your-own-device initiatives, virtualization and containerization all add to CISO challenges.
Growing Regulations and Compliance Demands
Digital transformation results in the existence of more sensitive data to protect. General awareness around privacy concerns drives increased government and industry regulations. The steady acceptance of these regulations results in elevated scrutiny of business practices. In turn, more stringent penalties are to follow suit for those who deviate from said mandates.
Limited Budgets and Talent Recruitment Challenges
Multifold increases in attack surfaces, frequency, and variety is unfortunately not matched by corresponding budget growth. Meanwhile salaries for security personnel are seeing significant growth, driven by the uptick in demand. CISOs are under pressure to provide increased protection while seeking available and qualified personnel and holding firm to a budget line.
See
Comprehensive Visibility from Edge to Cloud, from User to Application
See across private, multiple public clouds, enterprise branch, employee homes, and other corporate sites. See into virtualized environments (VMs, containers, serverless) to identify new advanced threats.
Understand
Advanced Threat Intelligence and Analytics to Grasp Cybersecurity Posture
Detailed and comprehensive analytics provide understanding of security posture across all locations. This can be tied in with global visibility and threat intelligence to gain unparalleled insight into multi-stage, multi-layer attacks.
Act
Distributed and Layered Defense to Protect from Multiplayer, Multistage Cyber Attacks
Centralized management counters the WFA reality, and secures the more hard-to-reach places as well. By additionally leveraging a decade's worth of innovative AI/ML, Hillstone solutions can reduce false positives and speed up human responses.
Our approach allows security teams to gain comprehensive visibility amidst the expanding and increasingly complex threat landscape, fully understand the landscape, and generate a malleable counterplan to secure enterprise assets. As a result, enterprises can embrace cyber-resilience. Additionally, it helps security and IT teams around the world grasp the concept of cybersecurity, and how cybersecurity vendors aid in defending this novel landscape.
We create "Security that Works" by providing a comprehensive cybersecurity solution portfolio. This exhaustive offering allows our users to feel the impact of our solutions and have a grasp of what's happening. Examples of this can be seen by our duo inclusion in both Gartner Peer Insights Customers' Choice for Network Firewalls, and our classification as a Visionary in Gartner's Magic Quadrant for Network Firewalls. The visionary qualification shows we have security that works from a legitimacy and analytical perspective. Our Peer Insights qualification shows we have security products that function simply and effectively for security teams around the world.
AI/ML augmented security analytics
As one of the first vendors to release an AI-based firewall, and with over a decade's worth of innovation and experience in the AI/ML security space, Hillstone's extensive set of layer 2 to layer 7 capabilities will advance your enterprise's security.
Consistent innovator in the cybersecurity space
As a growth player in the security market, Hillstone is recognized by leading analysts like Gartner, with multi-year presence in three MQs and recognized as a Visionary vendor for network firewalls.
Global presence for over 23,000 enterprises around the world
Hillstone provides carrier-grade solutions that scale from the smallest branches to the largest cloud data centers. These solutions cover modern threat attack surfaces, recognize modern threats, and can flexibly enact post-breach mitigation strategies.
Lower TCO in tandem with an integrated suite
Hillstone's integrated platform provides an affordable, yet cutting-edge, solution designed to protect customers from evolving cybersecurity attacks. Hillstone provides holistic insights by aggregating comprehensive alerts with external intelligence.
The Hillstone suite of products can help establish a comprehensive security infrastructure. We have edge protection, cloud protection, server protection, application protection, and a set of centralized security analytics that can help with streamlining overall security management and operations.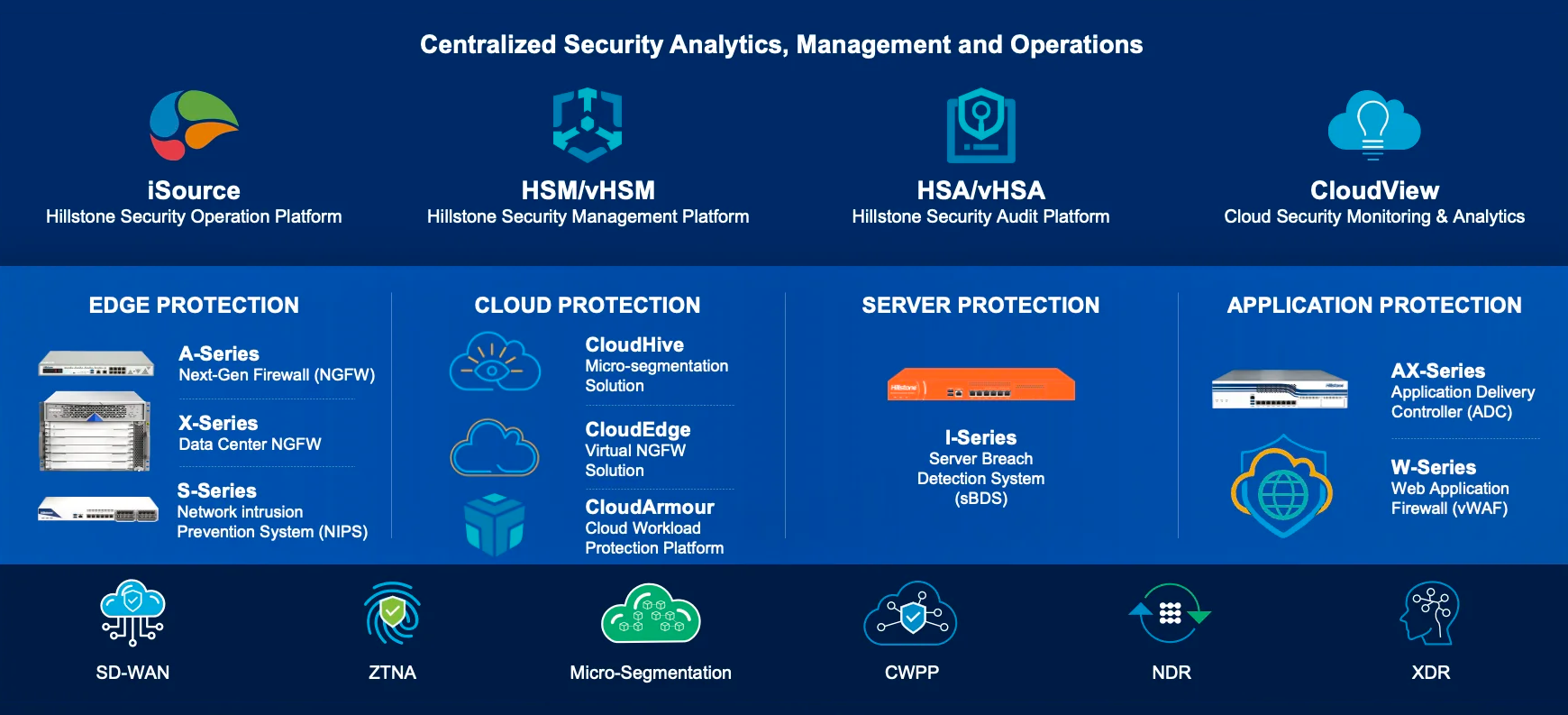 Expand Coverage
Continue to expand coverage, such as tackling work-from-anywhere situations, implementing ZTNA, and developing forms of cloud-based protection, to encourage an industry-wide drift toward the SASE convergence.
Expanded Integrations
Create more integration points with SecOps platforms for an increasingly streamlined operations and management that'll lead to an overall better understanding of the cybersecurity space.
Advanced Threat Visualization
Generate advancements in threat visualization and forensics to assist with the comprehension of new threat vectors and formulation of advanced mitigation strategies.
AI/ML
Develop AI/ML technology that is 10 years running to perpetually tackle advanced threats that are growing both in volume and in complexity.
Hillstone Networks Customer Perspectives
"Intelligent generation security system capable of identifying vulnerabilities and attacks"
— Network Manager, Transportation Industry
"Hillstone is the all-in-one in security network world, but really easy to manage"
"Hillstone is a global security company that allows government defenses to formulate"
— IT Security, Government
"Hillstone is a good decision, they will rise more than others very soon."
— Network Analyst, Education
"Hillstone virtual NGFW secure our remote workforce"
"Hillstone is a very good brand, and the services that they can offer is one of the best"
— IT Platform Administration, Education
"Powerful and solid firewall and very easy to deploy"
"Robust NGFW for Perimeter Protection"
— Network Administrator, Transportation
"Hillstone is a very good technology as Gartner Leaders or even better"
— Server Manager, Transportation
For the 3rd year in a row, Hillstone Networks has been recognized in Gartner Peer Insights Customers' Choice for Network Firewalls.
The Customers' Choice is a rating of vendors in a given market — for Hillstone, it's Network Firewalls — that take into account both the number of reviews and the overall user rating. Based on feedback and ratings from our end users who have purchased, implemented and are happily using our products and services, Hillstone's overall rating came to 4.9.
XDR: A Step Towards Integrated Security for Cyber Defense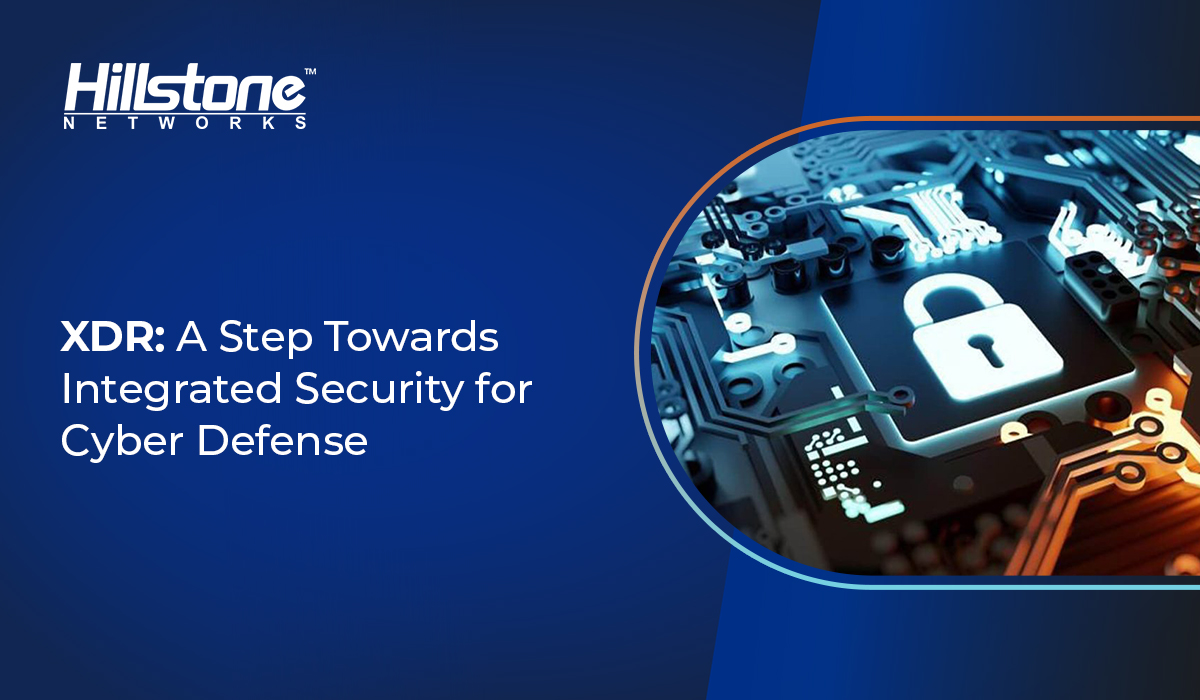 Breaking the Mold: Halting a Hacker's Code ep. 8 – Temp Stealer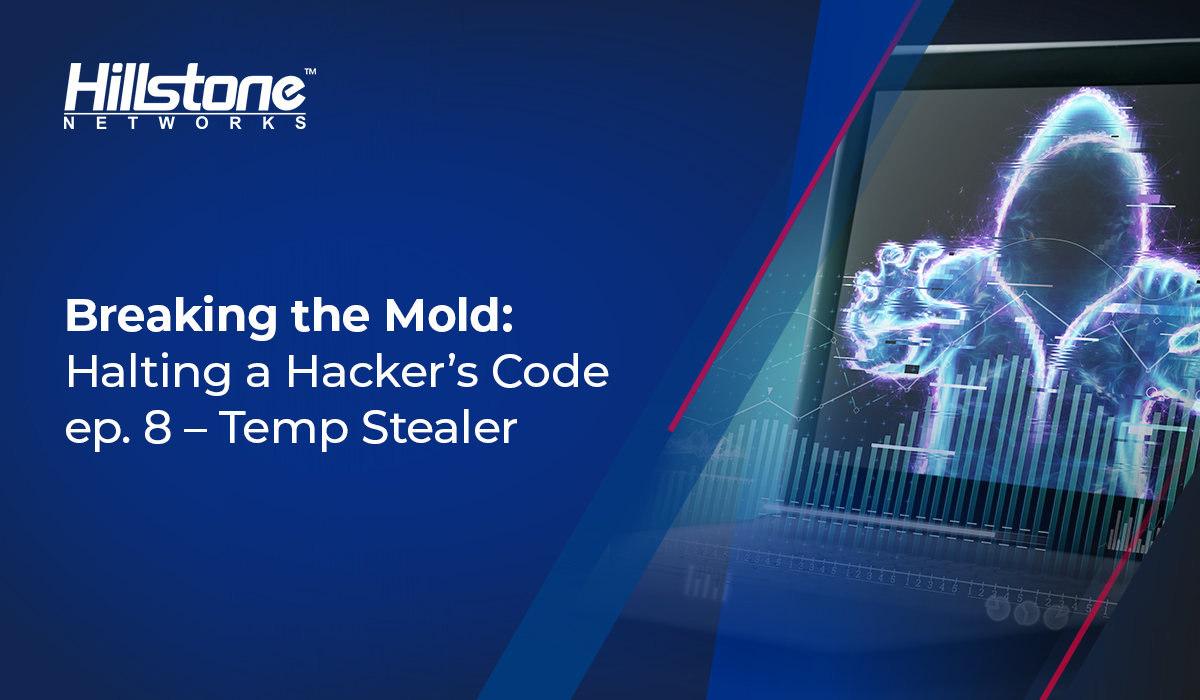 Experience Expedited and Secured Application Delivery with ADC V3.1