We've previously discussed the significant new features and capabilities delivered by the latest StoneOS, version 5.5R8, for Hillstone's NGFWs. Among them are expanded botnet C&C protections, new agile configuration for policy management, enhancements for data center firewalls, and important upgrades to virtualization capabilities.
We're continuously improving our products with new features and enhancements to protect against evolving threats and to support changing deployment models, as well as with new models for improved performance and capacity.
As part of our development process, we listen to our customers' feedback and incorporate the latest in design principles and best practices. Which brings us to the last major update in Hillstone StoneOS 5.5R8 that we'll cover in this series of blogs.
In this version, we've completely redesigned the user interface with the intention of providing simple access and efficient interaction. The updated UI takes into consideration design-thinking principles, which focus on human-centered design.
For IT managers, this means that the new UI minimizes search time, as well as unsolicited actions, to ultimately reduce overhead and significantly improve productivity and the overall user experience. View the demo below, or read on for more info.
For example, security policies are one of the most complicated, and most frequently used, configurations within a next-gen firewall. With the new UI, setup becomes much more intuitive and straightforward. For each of the required policy parameters, like source address, destination zone and address, etc., admins can search and select from existing items, modify them, or add a new item – all from within the policy configuration tab.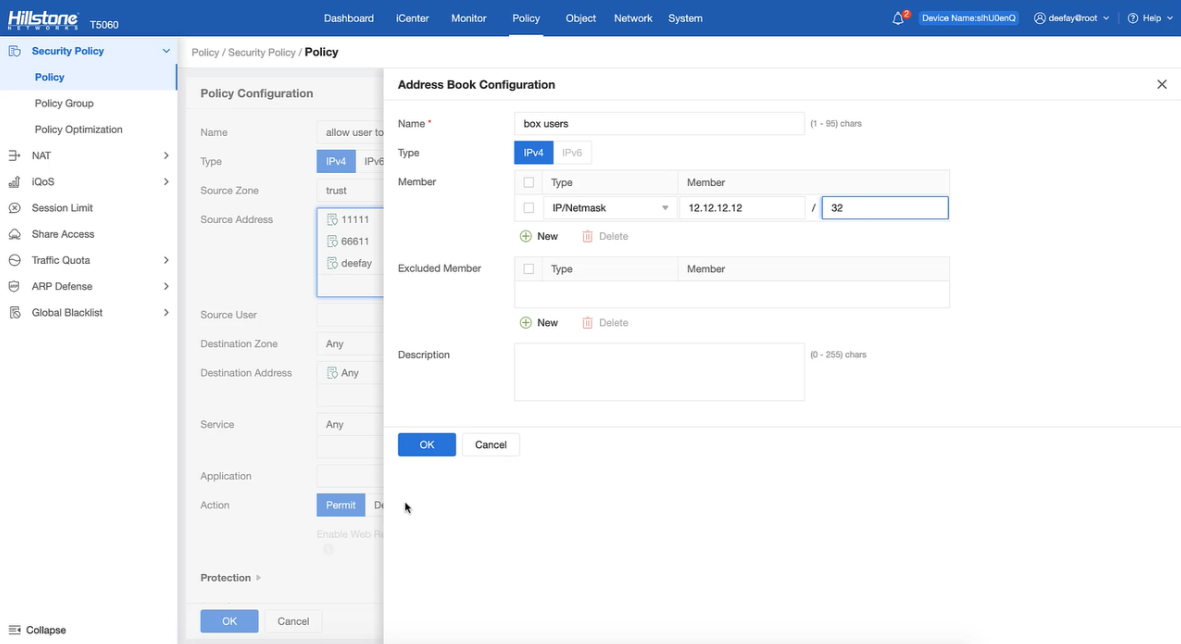 Example of Adding a New Source Address within a Policy Configuration
In keeping with our goal of providing simple access and efficient interaction, the latest StoneOS also provides improved UI customization. Now, individual admins can add and remove columns like Source, Destination and Service, as well as add/remove column items like Zone, Address and User, as shown below, just by checking or unchecking the corresponding tickbox. These customizations are unique to each administrator, allowing them to tailor the UI to their preferences.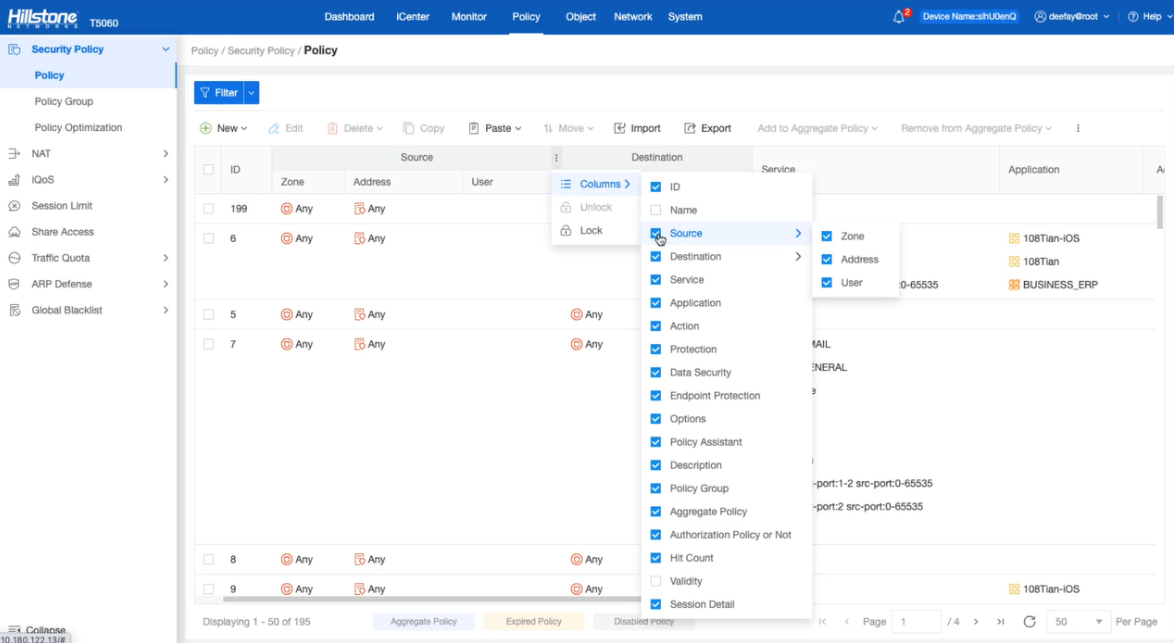 Example of UI Customization, Removing Columns
These changes are also persistent for each admin, i.e. if Admin A removes the Source column from his or her view, each time Admin A logs in, the Source column will not be shown.
Enriched User Experience with an Intuitive Design
From a high-level view, the redesigned UI can be summarized into two main categories:
Intuitive User Experience: A newly designed user interface prioritizes ease of use across multiple dimensions: Content that is easy to categorize and find; streamlined configuration processes; auto pop-up contextual tips; warnings and error messages; non-intrusive fly-in windows; richer detail and faster interaction; and customizable displays based on the screen size and objectives.
Design Thinking in Mind: Standardized fonts and sizes, professional icons, and a differentiated color palette based on design best practices, all combine to deliver a visually pleasing, fresh and easy-to-use experience.
We think you'll be impressed by the redesigned user interface and its ease of use. Ask for a demo today!
Learn More about the Latest StoneOS
Hillstone StoneOS 5.5R8 includes more than a hundred upgrades and enhancements to provide the most comprehensive, agile, reliable and easy-to-use security solution for enterprise data centers. These capabilities are available for the enterprise Hillstone E- or T-Series NGFWs, X-Series data center firewalls, and the Hillstone CloudEdge virtual NGFWs in the data center or cloud. These security platforms provide future-proof protection and an intuitive user interface from the edge to the cloud.
Upgrade today to take advantage of our new user interface. You can learn more about the latest StoneOS release in the Hillstone Resources section of our website, or by contacting us.