See. Understand. Act.
A Pragmatic Approach to Enterprise Security
We Stand with You in Defense of Your Enterprise
The Challenges
Organizations are revamping the enterprise WAN edge with solutions like SD-WAN and SASE, and expanding IT infrastructure into private clouds and multiple public clouds (multicloud). As new locations are added and as existing infrastructure is upgraded, CISOs need to ensure a secure and agile IT foundation across an enterprise's infrastructure. In both hybrid and multicloud deployments, enterprises need new virtualized security solutions that can provide visibility and control over disparate cloud environments, across bare metal, virtual machines and containers.
This problem is exacerbated at the enterprise edge, where IT is tasked with ensuring the security of remote workers, many working from home, without impacting their productivity. CISOs are now partially responsible for securing employee home offices, a significant expansion of the enterprise threat surface. This is on top of workers taking advantage of mobile technologies to work from anywhere. Meanwhile, the CISO faces challenges in recruiting qualified security staff to relieve overworked team members inundated with false alarms and suffering from alert fatigue.
At the same time, new multilayer, multistage attacks are exploding, with innovative ransomware, zero-day exploits, supply chain-based attacks, sophisticated social engineering techniques, and other advanced threats. Recent nation-state attacks have impacted enterprises globally, undermining trust in established software development and distribution, and exposing weaknesses in the monitoring of infrastructure devices. Understanding and tracking the progress of new threats along the cyber kill-chain and within frameworks like MITRE ATT&CK has become a critical necessity. Further, new visibility capabilities are needed, including preventing initial infection, detecting lateral movement of malware between VM and containers and blocking exfiltration of critical enterprise data.
Unfortunately, unsophisticated security and monitoring tools don't provide the necessary coverage of new IT infrastructure, nor do they have the intelligence to recognize and be effective against new threats. They do not provide an understanding of how an enterprise has been breached or how to mitigate those breaches. IT's attempts to solve the problem by purchasing single point products to cover each disparate location and situation is cost-prohibitive, and lack an integrated approach that combines information from multiple products and external threat feeds. Point products do not service the expanding enterprise edge and the cloud particularly well, especially given the pervasiveness of virtualization and containerization in cloud environments. Yet organizations are exposed if they do not have the comprehensive visibility to see what's going on everywhere, edge to cloud; the intelligence to understand the nature of what's happening and how they are being breached; and the capability and performance to act in real-time to mitigate and stop ongoing attacks.
Here's How Hillstone Networks Can Help
Hillstone Networks' proven Infrastructure Protection solutions provide enterprises and service providers with the visibility and intelligence to comprehensively see, thoroughly understand, and rapidly act against multilayer, multistage cyberthreats.
Manage security risks within enterprises with complete user, application, and device visibility to see everything regardless of location. Intelligent analytics understand what's really going on and differentiate good from bad traffic. Real-time, high-performance controls to act and mitigate risks from attack and breaches.
An integrated platform that ties together internal observations and alerts with external threat intelligence to create a holistic and comprehensive view of an organization's evolving attack surface and security posture, enabling deeper insight and increased ability to spot hard-to-locate and sophisticated multilayer, multistage attacks.
Meet increasing security and compliance mandates by delivering solutions that serve any location, protect any platform, and any application hosted anywhere.
Comprehensive solution suites, augmented with AI/ML and threat feeds, that can deploy and scale access controls and visibility into today's dynamic datacenters, applications, clouds, and mobility architectures while improving total-cost-of-ownership.
A Growing Suite of Products
With a reputation for "security that works," Hillstone's holistic product suite includes NGFW, breach detection, SD-WAN as well as VM and cloud security. Hillstone's cutting-edge solutions leverage AI/ML and integrate seamlessly into SecOps frameworks, providing assurance to CISOs that their enterprises are well-protected.
Continuous Innovation for Continuous Security
Hillstone understands the need to continually innovate and we will continue to drive innovation by increasing scale and scope of coverage (e.g. IoT, 5G mobility); adapting to new technologies (e.g. containers, serverless); and invest in ongoing refinement of its AI/ML-based security analytics solution to improve efficacy in detecting and mitigating new types of attacks. Hillstone will also continue to make advancements in threat visualization and understanding, deeper integration with SecOps platforms to improve detection of sophisticated attacks and facilitating improved response times through security automation.
Thank You Again!
For the second consecutive year, your peers selected Hillstone as the Gartner Peer Insights Customers' Choice for Network Firewalls.
Hillstone Networks Customer Perspectives
"Intelligent generation security system capable of identifying vulnerabilities and attacks"
— Network Manager, Transportation Industry
"Hillstone is the all-in-one in security network world, but really easy to manage"
"Hillstone is a global security company that allows government defenses to formulate"
— IT Security, Government
"Hillstone is a good decision, they will rise more than others very soon."
— Network Analyst, Education
"Hillstone virtual NGFW secure our remote workforce"
"Hillstone is a very good brand, and the services that they can offer is one of the best"
— IT Platform Administration, Education
"Powerful and solid firewall and very easy to deploy"
"Robust NGFW for Perimeter Protection"
— Network Administrator, Transportation
"Hillstone is a very good technology as Gartner Leaders or even better"
— Server Manager, Transportation
Hillstone Networks named as a Visionary in 2021 Gartner Magic Quadrant™ for Network Firewalls
Read the 2021 Gartner Magic Quadrant Report
The Future of the Cyber Kill Chain Methodology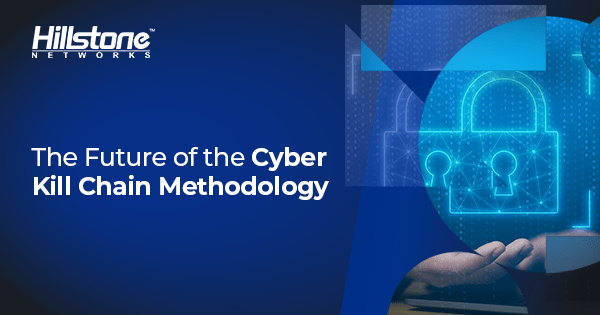 Website/Email SSL Upgrade: High Performance and Easy Deployment