We are proud to announce the release of the Hillstone Security Audit (HSA) platform, version 2.9.0. This new version comes with a new high-end hardware model which completes our product offerings in security audit.
HSA 2.9.0: The New Model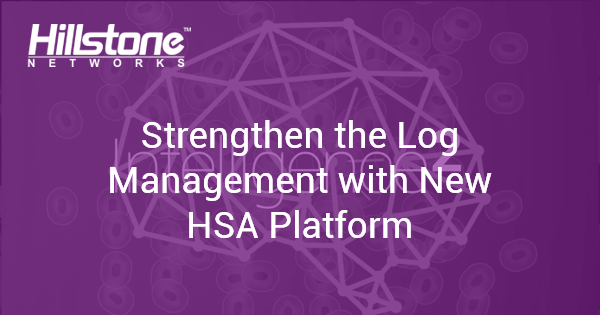 HSA-10D Highlights:
High performance in log processing:

Up to 100,000 EPS for binary logs
Up to 15,000 EPS for text logs

High log storage with RAID5 support

NAT log storage for 180 days with 8Gbps links
16 TB hard disk with RAID5 support

Dual power supply support for high availability
HSA Overview

Hillstone's Security Audit Platform(HSA) transforms log data into security intelligence with split-second searches that provide instant visibility into billions of log records.
Hillstone's Security Audit Platform collects and collates NAT, Threat, URL and Session logs and provides granular search capabilities that provide real-time visibility into network traffic.
Highlights:
Multiple Log Types: NAT, Session, Threat, URL, IM, etc.
High Performance Log Collection: up to 100,000ESP
Massive Log Storage: up to 16T
Convenient Log Query: Support multi-condition real-time query and display; Support real-name audit
Visualized Report: real-time monitoring and reporting
To learn more about the solution, please refer to the Hillstone HSA Datasheet.